Kiara travels 6000 miles to attend GHS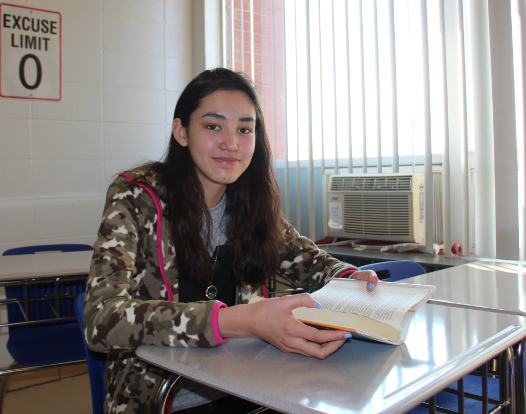 The idea that people would immigrate to America for a better life, that they would leave their country, sacrifice the comfort of their home for American luxuries seems totally understandable to most Americans who ask, "Why wouldn't people want to come here?" However, the decision is not always a simple one.
Kiara Macy, a Japanese-American freshman new to GHS and niece to GHS's ESL teacher Sara Schulz, recently moved to Galena from Tokyo, Japan—the largest metropolitan area in the world. "I wanted to learn English," said a timid Macy with perfect pronunciation, "and I didn't want to get caught up in the competitive ways of Japanese life."
In Japan, middle school takes three years to complete, going from seventh grade to ninth grade. In ninth grade, students take a placement test to determine whether they will get into a top high school. "So," Macy said, "you had to be a good student from the beginning of middle school."
This, in turn, has created an elite atmosphere within Japan's school systems that causes intense competition among Japanese students, inviting depression, anxiety and a climbing suicide rate.
"They expected a lot out of you," Macy said. "Even the school rules were strict. You have to wear a uniform, always had to wear black socks, always had to have [your] hair tied up, can't wear make-up, can't bring your phone to school, and you can't paint your nails."
These rules are the norm at Macy's public school in Japan.
Consequently, it was Macy's parents who pushed for a move away from that stressful environment despite the fact that her parents' jobs would prevent them from making the international move with her.
"My aunt (Mrs. Schulz) brought [the idea to move to the U.S.] up when we were skyping and talking about [the] future," Macy said. "My dad said it would be a good experience for me, and my mom didn't want me to go, but she didn't disagree because she knew that it would also be a good experience."
Schulz said, "Her parents wanted her to learn more English in a formal setting, so she's ready for college in the U.S."
Despite a less intense environment at GHS and being fluent in English, Macy said that assignments in English have proven stressful in their own right. "It's hard for me because English is my second language, so the schoolwork can be hard in that sense."
Although Macy said that the language barrier has been somewhat difficult, there is another factor that has proven to be a greater obstacle in adjustment to American school life.
"[American school] is not more stressful that I was used to," Macy said. "It's just hard for me to put myself out there even when I want to talk to everybody."
Even though Macy's dad, who grew up in the U.S, had brought some American culture to her life, like making sloppy joes and teaching her English, Macy said that the struggle with her shy personality is connected to the way she was taught in Japan.
"I want to change, but I can't because I'm used to Japan's way of life," Macy said. "Japanese people kind of don't express themselves. They just want to be perfect."
According to Macy, Americans are more expressive and distinctly value individuality. "You can wear whatever you want. It's more free."
There are many things that Kiara likes about being in Galena. The Schultzes' busy household distracts her from the difficult adjustment to American lifestyle. "You're always not alone, and you have someone to talk when you're bored, so that's pretty fun." She also likes the teachers at GHS. "The teachers are really funny," she said.
Oh, and, "Here, the McDonalds is really good," Macy said.
In coming years, you will see Kiara Macy carry her passions from Japan to the court as part of the basketball team and high-jumping on the track team.
As for a future career, "I want to be something where I can use Japanese and English," said Macy. "Maybe interpreter?"