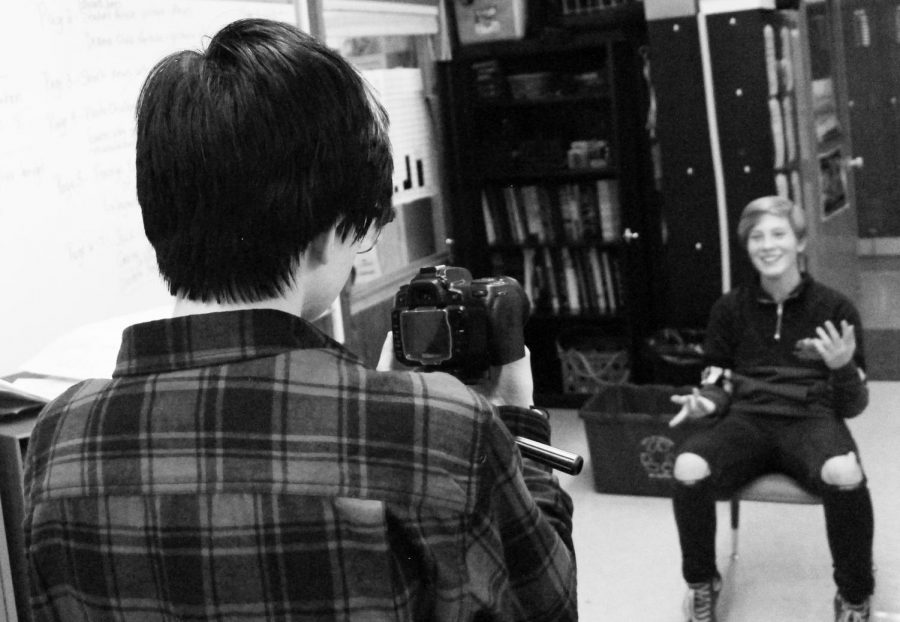 Benson's documentary highlights GHS classmates' untold stories
Galena High School sophomore, Judas 'Jude' Benson, has a quote that has shaped his view on the world. "You are a human with a life, and it is up to you to make it the best life you can."
Everyone has a story to tell or a something that they have inside of them but have never expressed out loud. Even though we may not see it every day there is always a wide number of people who have a untold story that they are either afraid to share or feel has they will be judged for sharing. The problem is that even though they feel as if they are alone, they aren't the only ones with secrets. It all comes down to making the choice of expressing your stories and showing the impact they have on you and others when shared.
At GHS there are many stories that are not seen every day. This year's publications class is on the lookout for these stories this year as part of the theme for our yearbook. Benson has a project he has been working on this year.
"I think it's time to speak out," he said. "Our school should hear these messages." Benson has gathered a group of students and teachers from our school who come represent a variety of points of view, and who have some unique experiences.
Working with Benson, these individuals have shared their stories to be included in a documentary.  This documentary's goal is to help people from diverse groups break free from the assumptions that people have created about them.
"I think that people judge each other all the time," said Benson. "Even when they haven't met them, people make assumptions based on what they know."
Benson's documentary is way for his subjects to share and express their experiences in our school and community, as well as to give advice to others who are going through similar situations.
This documentary came about because, "After living in Galena all my life I feel we are really sheltered and grow up not knowing much about people who are different," said Benson.
Growing up, Benson found that he felt very alone in the Galena community and took reassurance from stories he read about people with similar experiences from across the country.
"I know that there are people at GHS who have a story to tell," said Benson. "When I heard some of their stories, I found out that everyone has a story to tell in their own way."
"This project really opened me up to the idea that everyone is not what you always assume," Benson said. "You need to get the foundation of what or who they are and know that you're not alone with everyone having a hidden story or struggle"
As Benson was planning out his documentary he had wanted a variety of experiences in his movie. Little did he know there were plenty of people that he sees every day with something to share.
Benson included stories from several GHS teachers. Spanish teacher Mr. Gimmy shared what it's like to be gay. "When Jude asked me to be a part of his documentary, I was honored that he asked me to participate. Storytelling is an important part of who we are as people," he said.
For Mrs. Siese it was special to see Jude use the skills he gained from an art camp he attended. "As Jude is putting this documentary together, he is using many of the techniques he learned at camp," she said. "I have loved watching Jude at every step of this project and can't wait for the finished product."
Mrs. Bookless told about being a teacher. "Jude asked me what I would say to people who are feeling the effects of who they are. I told him I think people should just be who they are," she said. "I think my students are all weird and wonderful and they should just embrace their weird."
Mrs. Friedrick gave her insight on being a widowed mother. Benson also spoke to students about what it's like to be popular, a lesbian, bisexual, Mormon, Catholic, Christian, and Mexican American.
"Everyone has a story to tell," Benson said. "In the end I want people to know they don't have to be afraid of that hidden feature or special thing in their life. They should express it and share it."
The documentary was filmed in September and is currently in post-production.