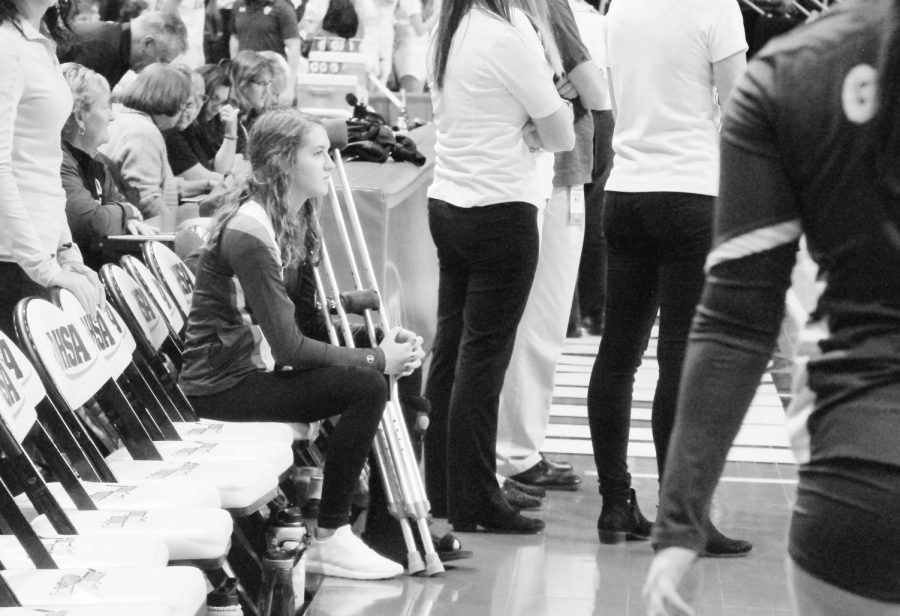 Broken ankle, broken dreams
Senior Sophia Heisler's volleyball season came to a sudden halt on October 18 at the last conference game of the season. After a long rally at Warren's senior night, Heisler went up to block and when she landed, everything changed for the worse.
"It all happened really fast and instantly hurt very bad," Heisler said. "I wanted to walk it off and keep in the game, but I physically couldn't walk." As Heisler got help off the court and sat on the bench with ice it all became very real that it would be the last time she would step foot on the volleyball court ever again.
Heisler said that she was disappointed when she got a call during photography class the next week to hear the news that her foot was broken and that she needed surgery. Although she was in a lot of pain, she didn't want to accept the reality of not playing. With the postseason starting the next week, it was extremely heartbreaking to both the team and the coaching staff. "Having the reality of not being able to play with one of our best friends really hit all of us hard," says senior libero Samantha Stoffregen.
The coaching staff made the decision to pull up an underclassmen to take over Heisler's position. "Although I was really happy to be playing and contributing to the team," sophomore Abby Soppe said. "There was also definitely a part of all of us who wanted Sophia back in action."
The new lineup didn't keep these pirates from playing like they know they can. "It's really hard throwing new people into lineup when we're already use to and comfortable with the current lineup," Makenzie Muehleip '20 said. "The underclassmen have really stepped up to the plate and have helped the team a lot ever since Sophia got hurt."
Practice is no different than when Heisler was there. Losing a teammate didn't slow the Lady Pirates down; it made them want work harder. Heisler definitely got a lot of support from everyone as she got surgery and watched the live stream of her teammates beating Lena in the sectional championship. "I feel the support of all my friends and family and I really can't thank everyone enough for having my back through all of this," she said.