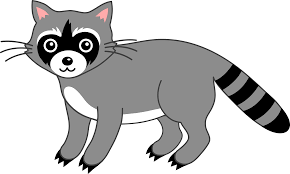 Trash Pandas take over
DEAR PETEY: First off, I would like to remind you that this is COMPLETELY CONFIDENTIAL. PLEASE DON'T USE MY NAME OR IDENTITY AT ALL.
So about two weeks ago I let a baby raccoon into my house. He was cold and needed a place to stay. It turned out it was really just a miniature adult raccoon helping his friends in a convoluted scheme. You know, like in that Marlon Wayans movie, Little Man?
Anyway, he let in all his friends and they took over my house. Now my family's homeless and they've turned the place into a trendy little clothing boutique to keep up with the house expenses. I even shop there sometimes (they have great prices).
And worst of all, when asked about it I blamed Zoe and Ev- Oh uh…I mean… my anonymous sister and brother. I need some advice on how to eradicate these vermin. Thanks!
-EVICTED IN EAST DUBUQUE
DEAR EVICTED: That sounds like quite the predicament. You happen to be in luck however, for I have seen something similar before but instead of raccoons it was a bunch of sloths. What you're going to want to do, Evicted, is start a rival clothing store and try to run them out of business.
I won't admit that it will be easy, but when I dealt with the sloths I learned that if you tailor your own clothes, the value goes up and customers love it. Those lower prices are hard to compete with, I know. One way to handle that is lower your prices beyond competition, force them out, and monopolize the market. You know, like John D. Rockefeller?
Anyways, I wish you the best of luck! Let me know how it pans out.