At a crossroads: 2020 election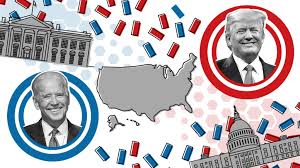 The United States general election is occurring on Nov. 3 and will shape the future of the nation. The heated Presidential race is between Republican incumbent Donald Trump and Democratic challenger, former Vice President Joe Biden. In addition, Senator Dick Durbin (D), Cherri Bustos (D) of Illinois' 17th Congressional District, and State House Representative Andrew Chesney (R) are all facing re-election among various local offices, too. School will not be in session on Election Day (Nov. 3), since it is a State holiday with hopes of encouraging more people to vote. Early voting has already begun with analysts predicting record turnout nationwide.
Student election judges have stepped up to the plate to assist in running the election. Galena High School Principal, Beth Murphy sent an email on Sept. 22 echoing a call from the Jo Daviess County clerk, Angela Kaiser. Many election judges are older, thus putting them at a greater risk of complications from potential COVID-19 exposure. Maggie Handfelft volunteered to be an election judge said, "I'm not of voting age yet, but I wanted to get involved, so when the opportunity to be a student election judge arose, I jumped on the opportunity." Student election judges could be as young as 16 and will ensure that the polling locations within the county are staffed and operational.
Some seniors are also first-time voters in this election cycle. Social studies teacher Brett Noble encouraged all students eligible to vote and posted the online voter registration site on his Government Google Classroom. Conor Behr said he is excited to vote in this election and have his voice heard. One in ten eligible voters is from Generation Z (those born after 1996) with 24 million having the chance to vote. Others in the student population are not eligible to vote but are following the races closely.
A school-wide poll was conducted on student's preferences for various offices. For the presidency, President Trump received 55.7% of the vote, Joe Biden, 38.6%, and third parties 5.6%. For the 17th Congressional District House Seat, Republican challenger Esther Joy King lead Democratic incumbent Cheri Bustos 56.8% to 43.2%. For the Senate seat, Republican Mark Curran received 49.3%, Dick Durbin 36%, and third parties 15%. Finally, for the Illinois State House Seat, Andrew Chesney lead John Cook 62% to 38%. Through this student poll, the Republican candidates fared better than the Democratic or third-party candidates. 
Social Studies teacher Kyle Knight has also been discussing the upcoming election with his Contemporary Issues students. Students have researched candidates and created their own election advertisements which have been flooding the airwaves and the internet. Contemporary Issues student Zack Ehrler said, "I liked the election ad project because it gave us an insight into what makes a successful ad." Mr. Knight has also discussed topics regarding Voter ID Laws, campaign finances, political action committees, party platforms, and battleground states.
Although the election appears to be incredibly divisive, it is a time-honored tradition in the United States to conduct free and fair elections. Senior Sydney Benson voted early and said, "It was a fun and exciting experience! I was glad I had the chance to vote!" Even through the tumultuous year of 2020, students are still willing to volunteer and vote. Inauguration day is set for January 20th for the victor of the presidential election.