2020 was a weird year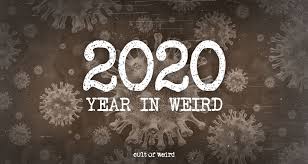 The current senior class was in the 6th grade in the 2014-2015 school year. That year the school district pilot tested the 1:1 laptop policy with our class. They entrusted us to take care of them, to charge them, and use them responsibly. The program expanded throughout the years. Little did we know that this technology would become our lifeline to the outside world, friends, family, and education.
This year has clearly been like no other. The coronavirus pandemic has fundamentally defined this year. Freshman and sophomore years went by normally and so many previous classes/generations had four normal years of high school. With the New Year approaching I feel it is important for people to look back at the events of the year. Every year people tend to be cynical and focus on all of the terrible things that occurred, however, I feel 2020 rings a similar yet solemn bell.
I remember our conversations in Math III last year about coronavirus and the situation felt distant and far away. Little did we know that the virus may have been here as early as December of 2019. Ominous stories accumulated into March when the Band trip to New York City, an early epicenter, got canceled a day before our scheduled departure. And then Friday, March 13th, 2020 happened. We were told to take everything home: locker decorations, books, laptops, coats, badminton rackets. It all traveled home. Nobody returned for the rest of the academic year.
Schools were being closed state by state and Illinois was only a matter of time. At first, it was a short term closure until March 30th, then April 7th, and then the end of the school year. Spring sports were canceled. The Drama Club production Mama Mia! was canceled. Our teachers were launched into an unprecedented situation: teaching from home via Google Meet and Google Classroom for an entire quarter of the school year.
Spanish teacher Karisa Timmerman described her initial struggles with remote learning, "I felt helpless when I found out that we would be transitioning to full-remote. I remember thinking, 'I'm not trained for this. I don't know how to teach online.' I threw myself a ten-minute pity party and then got to work." Timmerman also discussed her concerns about communication and connections with her students. "What kept me up at night as if I hadn't heard from a student in a while and didn't know if they were doing ok. I could provide what I could provide for instruction, and I knew my students were trying their best too."
We all know that we "are living history," however this is an event of significant magnitude that we can tell future generations. History teacher Brett Noble noted that this event has a high probability (if not certainly) of earning itself a spot in a future history book. The last major pandemic was approximately 100 years ago. Nobody had expectations that a global pandemic would turn our world upside down. The days of eating with 7 friends at lunch were gone. The days of carelessly moving about the classroom were gone. The practices, rehearsals, games, and events that we all cherish deeply were unfairly ripped away. The pandemic has been a brutal reminder that life is not fair. 
Going into the new school year was a time of many unknowns. I found it weird at how smoothly hallway traffic flowed without using lockers, although teachers expected people to congregate. Over time we have adapted to these various methods of learning and procedures to continue our education. Math teacher Randi Burken described the difficulty of teaching math to two sets of students, "It is very tough teaching remote and in-person learners. In a classroom, conversation flows so naturally, but on a Google Meet, the conversation doesn't just flow as naturally. In-person students also respond to questions asked in class quicker, where a remote learner has to unmute to respond." Burken also mentioned the importance of seeing faces and expressions as she can identify someone who may be lost or if a student feels confident with a concept.
Throughout the summer and into the fall COVID-19 has become much more widespread and is much more prevalent in our community than we would have thought possible back in the spring. We are at a worse spot compared to the spring. Everyone has had different experiences during this time and it is important for all of us to acknowledge those differences. Some have been infected, quarantined, live/visit with a higher-risk family member/friend, or lost their job/hours due to a subsequent recession. The mitigations, economic impacts, and personal experiences have made some sort of mark on everyone.
I believe that 2021 is a year of opportunity and hope. I am happy a year of turmoil and anguish is coming to a close. The phrase "It's 2020" has become an excuse for so many crazy things that have happened this year. Albeit, this year has provided us with plenty of "free time." People have renewed their interests or discovered a hobby, spent more time with family, or have hosted drive-by parades for special occasions. Businesses and restaurants have rapidly adapted to curbside pickup, online shopping, and contactless delivery.
I always watch the ball drop in New York City; rewatching it now is almost haunting. I don't think 2020 sets a precedent for the rest of the decade. There are many great exciting things that are going to happen. Current students are going to graduate in this decade and make a mark on our world. NASA will send astronauts to the moon in 2024. Los Angeles will host the 2028 Summer Olympics. There are still many great things to come!
We will get through this together. I am confident that this whole mess will end, hopefully, sooner rather than later. We will not be in pandemic purgatory forever; it's only a temporary crisis. The near future seems uncertain, but the long term future is bright and full of opportunities that I know the student body and community will capitalize on.