Victory in Galena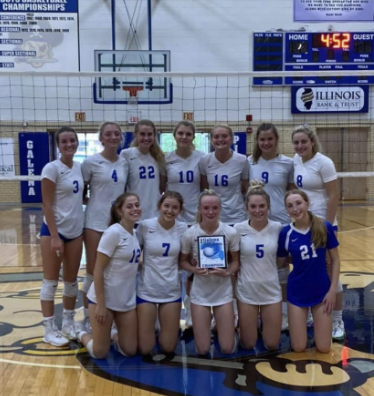 On Saturday, August 28, the Galena Pirates hosted their home volleyball tournament. Teams from Durrand, Orangeville, Winnebago, and Glenbard North traveled to play in this tournament. The Pirates dominated their first few games in pool play, but the competition started to get more intense as the day went on. "With the first few games being easy, it was tough to stay focused for the harder games coming later in the day," said Addie Hefel '24. "But I think we did a good job not getting ahead of ourselves, and playing solid through the whole tournament."
Glenbard North and Orangeville were two easy wins for the Pirates. But, Winnebago is a tougher team that always brings the heat. The Pirates won against the Indians earlier in the week. During the tournament, the two teams came face to face two more times. The girls played strong and together in order to beat Winnebago twice more. "It's hard to beat a team three times," said Paeton Hyde '23. "But it was exciting when we accomplished that!" The tournament win against the Indians launched the Pirates into the championship game versus Durand. 
The Lady Bulldogs have always been a tough and very competitive team, but that didn't hold Galena back on Saturday. The Pirates won the first game 25:23; Durrand battled back and won the second game 25:23. This pushed them into a third game, where the Pirates won 15:6! This win solidified Galena High School  the tournament championship trophy. "I think we played really well that day," said Taylor Hilby '23. "The heat was terrible in the gym, but the team pulled together. It was a fun way to start the season!"
If you want to see the Pirates in action, go to the game on Thursday night at home vs. River Ridge. If you can't make it to the game at 7:00, check out the Live Stream on the Galena Stream YouTube Channel!
Leave a Comment