Nothing but Net for Hefel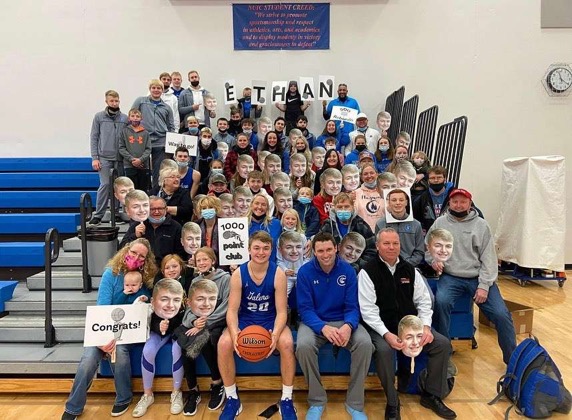 On the morning of Monday, December 27, Galena senior Ethan Hefel joined the exclusive 1,000 point club. There are only eight Galena boys basketball players in school history who have reached this goal. 
The Eastland Holiday Tournament was filled with non-conference teams. The first game for the Pirates against the Byron Tigers was a nerve-wracking one. The gym was full of energy on and off the court. The pressure was the highest for Hefel as he walked onto the court, knowing that his 1000th point was nearing. "Prior to the game I felt good," he said. "I was just trying to play the game like any other, and not get nervous about the fourteen points I had to score."
The Game started off differently for Hefel, as he only scored four points in the first half. "I was a little anxious after the first half since I wasn't performing how I usually do," he said. "But I stayed calm and just focused on playing my game." As the second half approached Hefel was ready to go, scoring twelve more points to clinch the fourteen points he needed, in order to make history! Hefel ended the game with a solid sixteen points, followed by Connor Glasgow '24 with thirteen points, and Kaden Hauber '25 with eleven points. The team took the win over Byron, with a final score of 52-34. The Pirates went on to take second place in the tournament, suffering a loss to South Beloit 36-32. 
Hefel has been a four-year varsity starter and a person to look up to in the Galena basketball program. This year, he has been averaging 22 points, 5.2 rebounds, and 2.3 steals per game. In a preceding game, Ethan recorded his 500th career rebound in a win against Belmont. He is one of the few players in Galena history to accomplish both 1000 points and 500 rebounds. "It was a great accomplishment, that I will remember forever achieving both of these big goals," he said. "I am very thankful for my coaches, family, and everyone who has helped me along the way!" This was an incredible achievement for Hefel and the boy's basketball program as a whole. The boys have started the season on the right foot with an outstanding record of 11-4. They have done a great job playing together as a team and with the comfort of their captain, they always have a teammate to rely on. As a leader on the court, Hefel holds himself to a high level of excellence and makes sure the other players do the same. 
Leave a Comment