FFA trip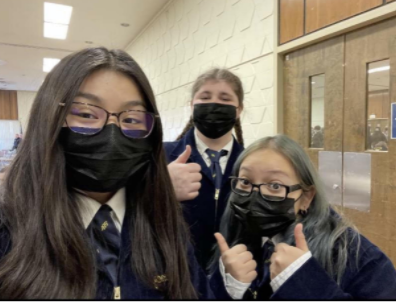 On Friday January 28, the Galena FFA went to Western Illinois University in Macomb, Illinois. They attended the Ground Zero Confonfrance, which is an FFA Leadership Development Event. 
At the conference Summer Belken '24, Mafè Lopez '24 and America Perez '24 all did team building activities. "They were fun, energetic and got everyone moving around," said Belken. Later at the convention the Galena FFA members split up with 11 other FFA sections, led by section presidents.
 Belken was part of team three, Lopez was part of team two and Perez was part of team nine. Within the table groups the group had to stack cups with rubber bands and string. "We struggled with our first table activity because my table just stared at me and would not talk to me," explained Lopez. They also got to have a paper snowball fight inside the University. "It was fun until I got a really bad paper cut from wrinkling the paper for the snowball," said Perez.
At the end of the two day trip, members got to attend a dance party where they got to pick their own song and then they got to create their own choreography to the song. "I picked "9 to 5" by Dolly Parton," said Belken. "My choreography was kind of slow but also based on a fast song." 
They also got to spend a little time making vision boards that represented what the students wanted in their future. "Overall, the conference was really good and we learned a lot about ourselves, and if I could, I would go again next year if I was able to," said Belken.
The next event that the Galena FFA members will be attending is the Illinois FFA State Convention held June 14-16, 2022 in Springfield, Illinois.
Leave a Comment