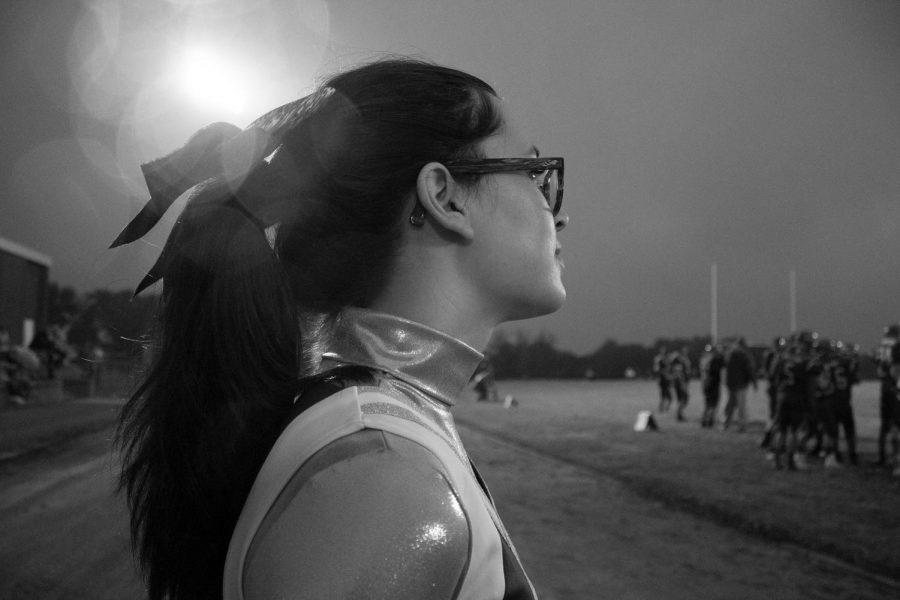 It started with a sentence
This journey began when Abby Schaber, '20, talked to her new principal at Galena High School. "She said that I would make a great cheerleader," said Schaber, "So since I wasn't a part of any groups yet, I decided to check it out."
Before Schaber could officially join the cheer squad, she had to meet the team. Schaber was a little nervous at first, but "I actually knew some of the cheerleaders from ARC, so I was really excited," said Schaber. Schaber has been living in Galena in the summertime since childhood, but this was the first year she joined GHS.
All the other cheerleaders had been practicing all summer for the football games to come, but Schaber joined right before school started. Schaber had to learn all 70 cheers -moves, words, and names- and the school song dance in a matter of a couple weeks. Schaber said, "During those few weeks it felt like I was in a cheerleading crash course."
By the time the first football game came around, she still hadn't learned all the cheers. "When I walked out in front of the crowd for the first time I felt like my head was about to explode," said Schaber. Schaber was scared that people would make fun of her for not knowing all the cheers.
The game started and as the football players ran across the field, Schaber's nerves started to calm. "Once we started cheering, I didn't care what anybody thought anymore," said Schaber, "Even if I messed up, I was still having an awesome time."
As the season went on, Schaber made stronger connections within the cheer team and learned more about cheerleading than she thought she would ever know. "My favorite part of cheerleading is cheering and hanging out with my friends," said Schaber.
One thing that Schaber didn't think she could ever do was stunting. Towards the end of the season the cheer team put together a stunt called the two-two-one where Schaber was one of the flyers. "I was actually thinking about telling coach that I didn't want to do the stunt because I didn't think I could," said Schaber.
The cheer squad walked through the stunt a few times, and it didn't go up as seamlessly as hoped. They kept working and smoothing out little mistakes until it went up perfectly. "When we finally stuck it I felt amazing. It was as if I had just climbed to the top of a mountain and there I was at the top," said Schaber.
Cheerleading was stressful for Schaber at first because she had some major catching up to do, but it all worked out in the end. "I'm glad I joined cheerleading because if I didn't, I never would have met such amazing people and found such fast friends. Plus Amy's brownies were delicious," said Schaber.