One more shot at OMAM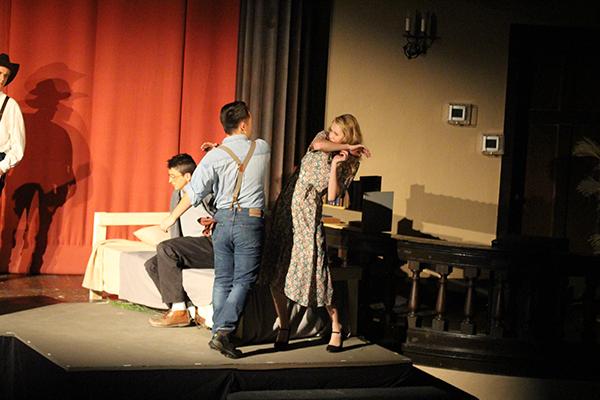 Hang on for a minute...we're trying to find some more stories you might like.
With the highest Thursday performance attendance since "The King and I" and a positive review from the Illinois High School Theatre Festival advisor, Galena High School's production of John Steinbeck's "Of Mice and Men" was poised for success.
"The theatre fest judge really seemed to like our performance. I'm confident." said senior Lucius Pham.
Theatre Festival, is the weekend after GHS students return  after Winter Break and consists of workshops, performances and drama club bonding with students from around the state. Every other year, a judge comes to watch one of the GHS Drama Club  Turner Hall performances and decides whether GHS will be one of the lucky schools to perform at  the state-wide get together.
This year, "Of Mice and Men" was up for consideration and after an anxious week, the results are in and the GHS drama club will be taking "Of Mice and Men" to Theatre Festival!  
"We were all super confident about the show, but it's still nerve wracking when you have to wait a whole week. It's a relief and and really exciting that we were selected." said junior John O'Shea.
The set specifically designed for the Turner Hall stage was taken apart in such a way that if selected, the cast and crew would have an easier time hauling it down to the University of Illinois Urbana-Champaign. The performance will be at 10:30 on the Saturday of Theatre Festival, but unfortunately, this performance is not open to the public and only to Theatre Festival participants.
"It is a great honor to be selected among all the schools in the state. It gives our drama program a sense of validation that we are doing great things." said the director, Ron Jenkins.
Going up against many other schools who have equally as amazing shows and have put in a great deal of time and  earning  the opportunity to perform is an accomplishment any drama club member dreams about. With a great cast, crew and directors, it should be a Theatre Fest to remember!