Hometown Holiday Spirit
From fireworks, tree lighting, and Santa coming to town one week, to over 5,000 luminarias, living windows, and Christmas caroling the next, Galena is bringing on the holiday spirit. While it has seemed as though there is little light shining through this 2020 year, there was more than enough brought to our community the past few weeks. Hundreds of tourists were decked out in Christmas attire admiring the natural beauty of our historic town, in addition to all the put on beauty. Masks and social distancing were strongly encouraged to all who gathered at this magical event. Whether you experienced it from your car as you drove by, or walked on the snow covered streets, the holiday cheer was vivid.
This was just what the town needed for its residents at this time of year. holidays are different, people aren't seeing their families and friends, but this was something that all could enjoy in a safe way. Sophomore Julia Townsend attended both the night of the fireworks and the luminarias. "It truly was two magical weekends. It is cool to see all of the tourists in awe over the natural beauty of our town," said Townsend '23. "For being such a little town, I wouldn't want it any other way, and these last two weekends are exactly the reason why." Holiday spirit has been a boost to the communities spirits overall. As the year comes to an end, these are the positives that people will take out of the year, 2020. 
Senior Morgan McIntyre looks forward to this time of year. She expresses her love for Christmas, and the holiday season as a whole, as well as her love of Galena's festivities. "There is no time like Christmas time in Galena, from the snow on the ground, to the lights in the sky, and the windows come alive, it's simply beautiful," said McIntyre '21. "It makes me so happy to see others happy, and that is exactly what these past few weekends have brought to the community and beyond." 
Spreading cheer and happiness is just as important as staying safe in these times. Seeing the town put on festivities like these, shows hope for the future, and gives these times a sense of normalcy. Get involved, see the lights, and find ways to celebrate this 2020 holiday season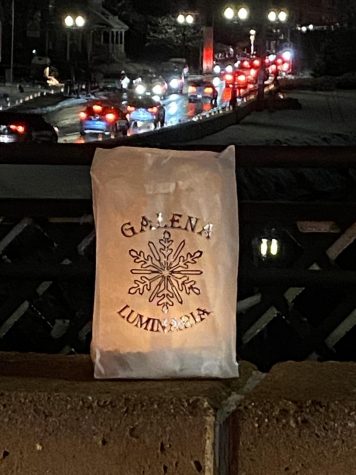 that is like no other before. Galena is simply lucky to have such a tourist community, because the tourists are the reason locals can experience these put on festivities. Galena High School wishes you a happy holiday season and happy new year. Practice social distancing, and keep our community healthy for the new year!