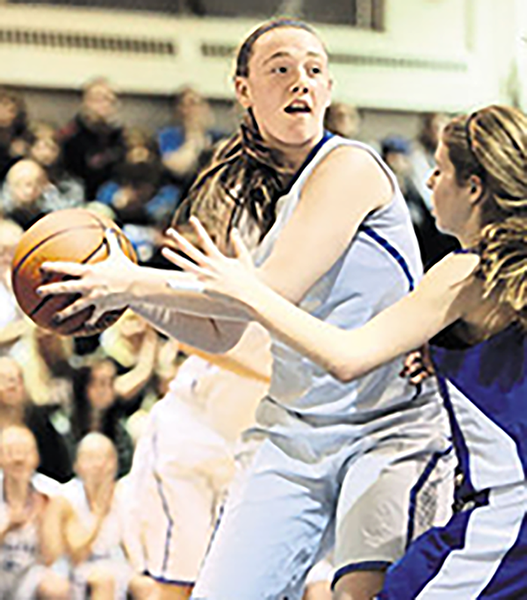 One of Katie Furlong's most challenging, yet rewarding goal attained has been her selection for Team Wisconsin's tour through Louisville, Ky and Nashville, Tenn.
When Furlong outgrew her Dubuque club team after freshman year, she explored new opportunities to grow as a basketball player. "... my dad knew the coach at University of Dubuque, who was the head coach of Team Wisconsin," Furlong said. She used her connection with Team Wisconsin's head coach as direction to the team.
She tried-out for Team Wisconsin her junior year and made the second best team. This was not enough for her. Furlong had to be a part of the top travelling team, so she tried-out again her senior year and made the cut.
As the tour's tournaments approached in early July, Furlong improved her game through practice. She practiced one hour everyday the week before the tournament, though she did not practice with her team aside from one meeting to review plays.
The friendships that developed throughout the games contributed to Team Wisconsin's advancement in the tournaments. She said, "realistically the team goes with the flow and improved every game." Team Wisconsin took large strides to finish 8 out of 64, which was a proud accomplishment for Furlong and her team.
Not only has Furlong's previous success in basketball helped her prepare for her greatest athletic achievement yet, but it also allowed her to gain greater confidence on the court. "It has boosted my confidence in my abilities and helped me better prepare for tournament play," she said.
While competing in twelve tournament games, Furlong had a hard time staying motivated. She said her difficulties were "trying to get excited for 12 games in a row and knowing each decision made impacts play." Furlong also explained how easy it was to lose sight of her goals when there were distractions such as physical and mental fatigue, junk food and sightseeing.
Aside from playing in the Under Armour Championships in Louisville and The Nashville Battle of the Boro, Furlong explored the surrounding city when her game schedule allowed. "In Louisville... [I] explored the downtown area and went to an amusement park across the street- Kentucky Kingdom. In Nashville I explored the downtown, went to the Grand Ol' Opry and went to Opry Mills Mall," she said.
Furlong was able to apply her experiences with her tour team to her everyday life. "... [It] helps me prepare for high pressure situations. It helps me to adapt to time in the limelight... [a] healthy lifestyle... [and] discipline," she said.
True athletic talent is not born practicing just over the summer, but rather is years in the making. Furlong started playing basketball when she was only in third grade. With her strong friendships and experience on the courts, she will keep improving upon her game as a confident player. "I want to continue [playing basketball] as long as I can because I love it and [would] miss it if I stopped."
Written by:
Julia Lieb
Katie Furlong, Staff Writer
Mar 01, 2017

Captain Luc Pham sets school record

(Story)

Feb 10, 2017

Luc Pham breaks toss-up record for Galena

(Story)

Nov 21, 2016

Galena girls' basketball gets a new look

(Story)

Sep 06, 2016

Julia Lieb Takes on Europe

(Story)

Feb 29, 2016
Oct 21, 2015

Galena varsity volleyball sets records

(Story)

Sep 08, 2015

Lincicum tells all about the work force

(Story)