Spreading Cheer and Helping Others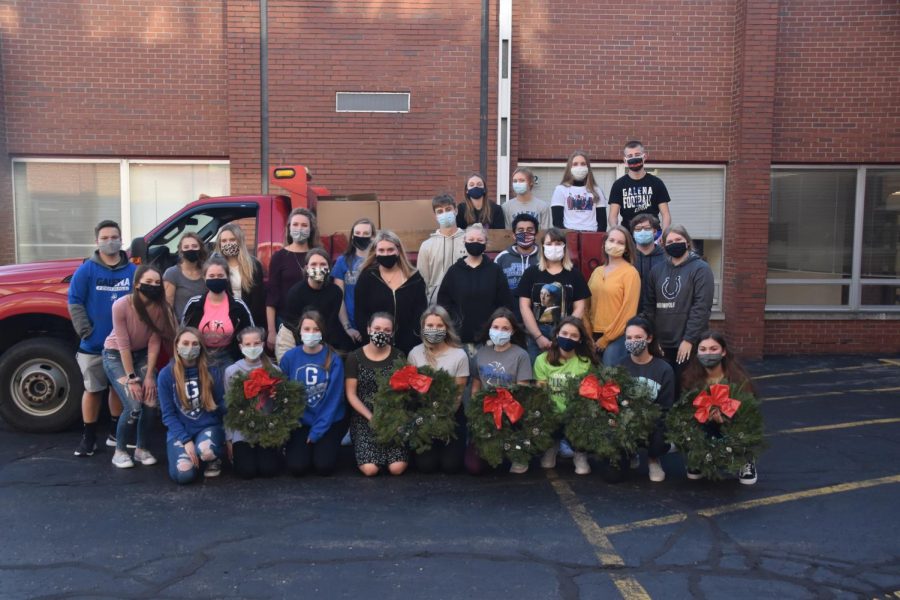 On Thursday, November 19, the GHS Key Club came together to participate in the annual tradition of wreath wrapping for the City of Galena and created a new tradition of making dog toys for shelter dogs. The members of Key Club came together in the cafeteria after school where they first discussed the agenda for the night, along with their monthly meeting. They then put on some Christmas music and began working away at the wreaths.
With the new safety regulations, students had to divide into groups of two to begin wrapping wreaths. Members had to start by testing the strands of lights before they could wrap the wreaths. Once all the lights were determined to be working, members were able to start wrapping. Within thirty minutes, all one hundred and ten wreaths were wrapped with lights and ready to be shipped off to City Hall. The wreaths would then be hung downtown to spread holiday joy.
Wreath wrapping is an annual service opportunity that many Key Club members look forward to. Sophomore, Maia Kropp was very excited to give back to her community. "During the wreath wrapping, I really enjoyed seeing everyone come together to do something good for others!" ,said Kropp. "It was really inspiring to see everyone helping out and overall having a great time."
Although there were a few changes to the typical wreath wrapping routine, GHS Key Club members were quick to catch on and still make the best of it. It threw off many members to not be wrapping wreaths in the Valley Perennials Greenhouse like they had in past years. Key Club Treasurer, Allison Garcia '21 was one of the members thrown off by this change. "I think we all knew that this year's wreath wrapping would be a lot different Not only because of being in the cafeteria, but also because we didn't get to spend this key club tradition with Ms. Zink." ,said Garcia. "When we would do this activity in the past, Ms. Zink would be the "mom" to always take pictures of us and make sure we got rides home. She took a lot of pride in making sure that we had a good time while giving back to others."
Despite the changes, it was a very positive experience for Key Club members and Advisors. A new tradition was added to this service activity which involved making dog toys for shelter dogs. The Key Club members did this by cutting up old tee shirts and then tying them together in unique ways to make toys. This activity let members express their own creativity as they could do different color combinations, toy styles, and tying styles. The GHS Key Club was able to make over fifty dog toys for different shelters.
Member, Kate Moran'21 thought that making dog toys was a positive experience. "Making dog toys is something we usually wouldn't do, but I was really happy to see how everything turned out. It was really exciting to see everyone come together to have fun and give back to the community." ,said Moran.
After two fun service opportunities,  the Key Club members look forward to the service activities to come. In December, the GHS Key Club plans to Christmas shop for families in need and then will wrap each personalized gift to spread holiday cheer.