Movie Review: West Side Story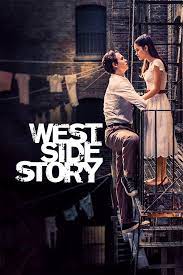 Many people know of the 1957 musical West Side Story, a combination of romance, drama, and crime, which was extremely popular at the time of its initial release and its story remains so.
On December 10, 2021, Steven Spielberg presented the world with a new and improved version of West Side Story. The story is about a guy and a girl from different gangs, the Jets and the Sharks, who hate each other and consistently battle for territory.
The guy and the girl fall in love, but it is forbidden since their gangs are so set on hating each other. I really enjoyed this movie and I would recommend it to people who like romance.
West Side Story takes place in the 1950s, a time when many Puerto Ricans were just moving to the United States–specifically New York City.
Throughout the story, the two lovers, Tony and Maria, have to hide their feelings for each other to protect their gangs. As the story progresses, they grow to hate hiding their love more and more. Eventually they decide to put their love above the hatred between the two gangs, so they stop hiding it, which gets them into a lot of trouble within their sides.
This relates to the message of the film in that love can help people overcome racism, poverty, and division, and can help bring people together when nothing else can.
The actor that I'd give the best performance award to is Mike Faist as Riff, the leader of the Jets. He plays one of the antagonists of the story, but he puts on an amazing performance for the audience. The film is targeted towards adults because of its gang violence and crime. Steven Spielberg did an amazing job with this film, as with most of his films.
One thing I especially like about this movie is that it relates to things still happening in our world today, such as racism and homophobia. It gives people hope that we can overcome these obstacles and that eventually love will be able to bring people together.
This film is the whole package. I love the action and the gang violence, but I also love the incorporated romance that hits the soft spot in my heart every time. It gives people a thrill while still being filled with action, love, drama, and crime.
Another thing I love about West Side Story is that the characters are so passionate that I can feel it through the screen. I would absolutely recommend this movie to people who like to be kept on the edge of their seat, those who like a forbidden romance, and those who will appreciate the immense challenge and passion expressed by the characters
Leave a Comment