Movie Review: Enola Holmes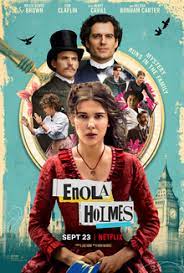 "There are two paths you can take, Enola: yours or the path others choose for you." Enola Holmes follows the story of Sherlock Holmes's younger sister. When her brothers grew up and went away, she became very close with her mother, whom many thought strange. One day, Enola wakes to find her mother has gone missing. Following clues her mother left, Enola goes out to find where her mother has gone while running away from other conflicts brought about by a young man she meets along the way. This movie was quite enjoyable because of its originality, acting, and plot twists.
Instead of the movie following Sherlock Holmes as the main character, the story follows his little sister. This is a new point of view that viewers don't get to see as it isn't one that is often shown. In the movie, we get glimpses of the respect Sherlock Holme has gained from his successfully solved mysteries, but we also get to see Enola's detective skills, which rival her brother's. Enola is quick on her feet and has good problem-solving skills like her brother. She's also good at reading people and making decisions based on her observations. Enola Holmes isn't featured in many stories, even though her detective skills are quite impressive, which made this movie more interesting to watch.
The acting in this movie kept me engaged in the story. Milly Bobby Brown plays Enola Holmes in the film. Her acting really relayed what the character was feeling. When she was upset, she was furious or she was frustrated. When she was happy, she was ecstatic or she was thrilled. The emotions Milly is displaying can't be mistaken for anything else. At some points in the movie, the scene freezes and Milly delivers lines right into the camera, as if she is talking to the viewers. This helps keep viewers engaged as they feel they are being talked to directly and are part of the story. Milly Bobby Brown makes a great movie into a fantastic movie.
The plot twists along the way keep viewers on the edge of their seats as they follow the story. Since the story is told from Enola's point of view, viewers are learning things when she learns them. This leaves a lot unknown to the audience so the surprises and plot twists are as shocking to them as they are to Enola herself. There isn't much to be said without spoiling the film but when we find out what Enola's mom is involved in and who is behind all of Enola and the boy's conflicts, it is a total surprise that stuck with me even after the movie ended. The surprise twists and turns enhanced the movie and made it more enjoyable.
Although this movie is fantastic, there are some flaws with it. One of the flaws is that the storyline with the boy kind of takes away from the main storyline. While I enjoy this storyline as well, it distracts Enola from finding her mother and makes her focus on helping this boy with his problems. However, even this flaw isn't that great of a flaw because each storyline is fully developed and each conflict gets solved in the end in a very logical way. Any flaw in this film is looked past because of all of the film's amazing qualities.
Enola Holmes was a thrilling and enjoyable movie that intrigued me long after the credits rolled. The originality, acting, and plot twists presented in the film transformed a good movie into cinematic excellence. I would recommend this movie to anyone because it has something for everyone to enjoy. It's thrilling, mysterious, romantic, and funny. Enola Holmes is a resourceful and intelligent character that inspires viewers to believe in themselves and to always do what's right.