Pirates learn leadership skills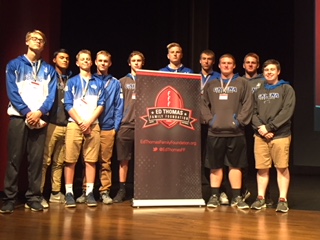 Hang on for a minute...we're trying to find some more stories you might like.
On Thursday, Oct. 4, eight members of the Galena High School Football team were given the opportunity to attend the leadership conference offered by Aplington-Parkersburg High School, in Parkersburg, Iowa. The students in attendance were Juniors: Henry Anderson, Austin Meyer, Andrew Teply and sophomores: Duilio Moctezuma, Ryan Holland, Conor Behr, Peyton Bauer, and Clay Folks.
At the Academy attendees were able to attend a variety of motivational speakers and activities geared toward creating positive leaders on the field and in the classroom.
One activity demonstrated how important integrity and honesty are for leaders. The Galena boys had to pair up and go out into the crowd of around thirty other schools and form a discussion group. There were questions such as, "Have you ever lied?" and "Have you ever cheated on a test?"
Peyton Bauer '21, who plays on the varsity team said, "I enjoyed being with other schools, I think it really helped the football team."
The Long drive may have deterred some, but the Pirates saw attending the Academy as a bonding activity. It was approximately a two and half hour drive on the Petey activity bus. On the way home, the team stopped for a bite to eat at the local gas station
Aplington-Parkersburg, IA, has an incredibly rich 21st century history. In 2005, Thomas won the prestigious NFL High School Coach of the Year award and was honored at the 2005 super bowl. Ed Thomas Leadership Academy on Oct. 4 was attended by the football team including, Henry Anderson, Duilio Moctezuma, Ryan Holland, Conor Behr, Peyton Bauer, Andrew Teply, Austin Meyer, Clay Folks.