Lady Pirates bring home sectional title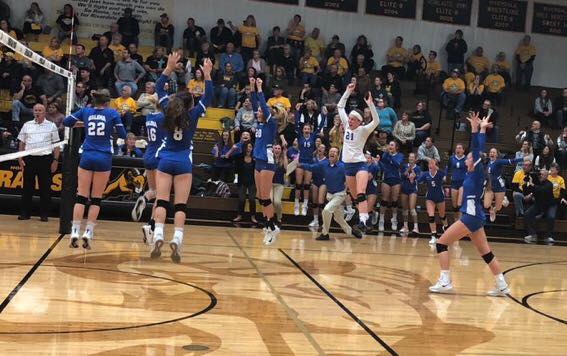 The Lady Pirates took home the sectional championship title against the Lena-Winslow Panthers on Wednesday, October 31. The Pirates won both sets against the Panthers. The score of the first game was 25 to 16 and the second game was a bit closer with a score of 25 to 21, making the Lady Pirates 2-peat sectional champions.
Morgan Wills 19' led the Pirates with 12 kills. Drew Wasson 19' assisted  27 kills last night helping lead the Pirates to victory. Samantha Stoffregen '19 led the team with a total of 31 digs. Sami Wasmund 20' had a 100% serving accuracy making all 10 of her serves with 2 of them being aces.
The Pirates prepare for the possibility of winning the Super Sectional title for the first time ever in Galena High School history. The Pirates played Elgin Harvest Christian Academy last year for the Super Sectional Championship and lost.  Wasmund 20' said. "I feel very excited to play this team again. We will be more than ready to play. This year will definitely be a different game. Almost everyone playing was at the super sectional last year and we know what to expect. This has been a very anticipated game and we are beyond excited to play." 
The Pirates will play Elgin Harvest Christian Academy for the Super Sectional Championship on Friday, November 3rd in Oregon, Illinois at 7 pm.