Seniors' last hurrah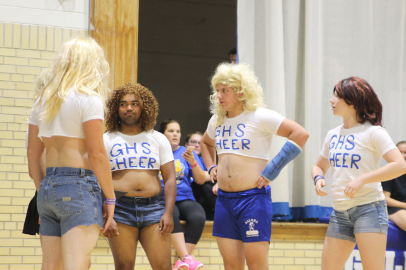 On April 5, GHS seniors will be celebrating their final year of high school in Wisconsin Dells at Kalahari Resorts. Featuring an exciting assortment of rides, waterslides, and activities–including ropes courses, Go Karts, climbing walls, mini golf, Lazer Tag, surfing simulator, and mermaid tail swimming–seniors believe in its ability to prohibit boredom.
According to Kalahari Resorts, "With amenities such as Spa Kalahari & Salon,  exceptional dining options and championship golf, Kalahari goes beyond your expectations." Even more, the day will actually begin at the Elusive Escape Room, which is just as it sounds. A team of four to 16 people is locked in a themed room, ranging in difficulty, with 60 minutes to discover clues, solve puzzles, and find keys and combinations to escape the room. After spending an hour-and-a-half at the Elusive Escape Room, students will head to Kalahari for the rest of the day.
"After looking at some other places, it seemed like Wisconsin Dells had the majority of activities we were looking at, and it was cheap. I wanted to make sure that people didn't have to pay for this trip, so that no one would have to miss out on the last hurrah," said Student Council President Christian Gronewold.
Last year, students as juniors fundraised for this trip, as well as Prom, through ticketed dinners at the Elks Club. By taking school buses and reducing fees, the trip will cost approximately $80, which includes Escape the Room admission, lunch at, Kalahari Resorts admission, and transportation. Students will even be given $15 of cash for each senior. And though students have been encouraged to bring extra spending money, it is possible that this may still be an all-expense paid trip for every senior.