Galena star player off due to ACL tear
Almost every athlete comes through times of weakness or tribulations. From a sprained ankle to a broken arm, anything can happen when you're on the court or field. Unfortunately for athlete Maggie Furlong '22, she had to experience a torn anterior cruciate ligament (ACL). Maggie has played volleyball and basketball ever since she could remember. In volleyball, she plays an outside hitter, and in basketball she is a point guard. She has been an outstanding player in Galena sports, and has stood out in any position she plays. 
Maggie's ACL injury happened while playing in her club volleyball team. "I was playing volleyball, when I landed and felt my knee pop multiple times. It was pretty painful, but I was able to walk right after it happened and up until I got surgery," says Furlong. "It basically felt like I was fine which was frustrating. When I felt my knee pop, I knew I messed my knee up pretty bad, but I didn't think it was as bad as it is because I was able to walk and it didn't really hurt."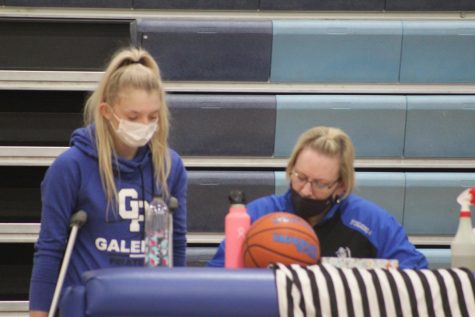 When tearing an ACL, an athlete can be put out from sports for a long period of time. "I will definitely take more value in the time I get to spend on the court in practice and in games, because six months of my athletic career was taken away from me in a split second," said Furlong. She believes that with the correct therapy and muscle recovery, she will be back in time to play in her fall volleyball season, and hopes to be able to stay healthy.
Furlong remembers watching other athletes come back from this injury too. "I always felt so bad for other athletes with this type of injury, and it's still kind of shocking that it is something I am going through now," she says. "This is just a bump in the road, I will come back stronger mentally and physically then I ever have been and I will be back on the court with my teammates in no time!" Maggie hopes for the best in her athletic career, and will continue to push herself to try her until she succeeds.